$14 Flat Rate Shipping Within Ontario
YourSuper-Duper ShinyBlack BathBox (Waterford Lions/Lioness)
The Gift that Gives Thrice!
Purchasing 'YourSuper-
DuperShinyBlackBathBox' is a Great Gift to *Give and
we *Give $10 to The Waterford Lion/Lioness
who than 
*Gives back to the community!
That Gives Me, a Big Smile!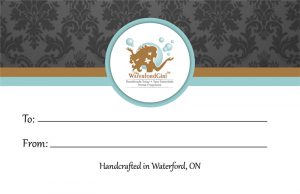 Comment Card:
To add a comment card label please fill out the "To" and "From" form fields below.